LRT Window to be filled soon. Stay tuned!

The MNG Main Space will be filled soon! Please stay tuned for upcoming Sled Island programming!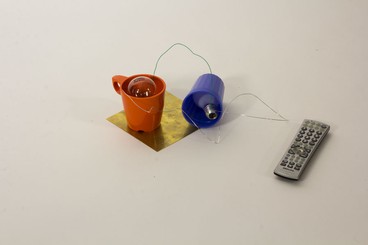 Kerry Maguire – 

Solutions for Better Living
Exhibition runs: May 29th – July 22nd, 2017
Reception: July 20th, 2017 6 pm – 7 pm
Marion Nicoll Gallery +15 Space at Arts Commons
Solutions for Better Living is like a shop window from some future. By repurposing household objects and materials of utility, practical objects are transformed into futile forms. Neither scientific in their methods of construction nor overtly functional, the resultant sculptures take everyday, familiar implements, like small household appliances and gardening accessories and rework them into new systems. While the objects' original uses are obstructed, new functions and new possibilities emerge as each part interacts within the newly formed whole.
Kerry Maguire is an artist and musician from Calgary, Alberta. In her artistic practice, she pursues ideas found in speculative realism and works primarily in installation. Her artwork incorporates audio, video, and sculpture. She also plays in several bands.